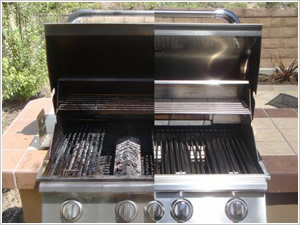 The BBQ Restoration is an intense Deluxe Cleaning and is generally combined with a complete restoration of the grill. This cleaning is intended to prepare the grill to be refurbished back to near new condition.
Typically a gas grill restoration project requires all new parts purchased at an additional cost. The burners, heat shields, cooking grates, ceramic briquettes, igniter elements and electronic igniter modules are replaced. Generally a minimum of three to four hours are spent on the grill restoration.
Every BBQ restoration project is given specific professional attention and the grill is essentially rebuilt. New replacement parts may be combined with refurbishment of existing parts to achieve the best bbq restoration results, while attempting to keep the cost of the gas grill restoration project far less than purchasing a new grill.